Bud Maltin Metropolitan Music
Bud Maltin Metropolitan Music has been providing music to the ears of wedding guests in the New York Metropolitan area for over 20 years.  After you contact Bud Maltin, you are sent a DVD of their past performances and packages for you to listen through, to make sure you put together the best package for your event.
CHOOSE FROM LIVE ENSEMBLES, LIVES BANDS, OR DJS.
Bud Maltin has won many awards including the most recent: Wedding Wire's Couples' Choice Award 2016 and The Knot Best of Weddings 2016 pick
Pike's The Flower Shop
Whether you are in need of freshly cut flowers, bouquets, wedding arrangements, or gift baskets, Pike's The Flower Shop is your go-to flower shop.
Pike's has been a family-owned and operated flower business for over four generations.
THEY KNOW FLOWERS, PETAL TO STEM.
Your wedding day is special.  Do not compromise with a lesser flower provider.  Trust Pike's and get the best quality flowers and the highest level of care and professionalism.
Park Slope Press
The wedding invitation: one of the first pieces of your wedding that represents you as a couple; as a whole.  Arguably, this is one of the most important parts of the wedding because it sets the tone; premieres your color scheme; and gives all the details!  So trust one of Brooklyn's best at letterpress, Park Slope Press.
Park Slope Press specializes in letterpress and screenprinting of all types of goods: paper goods, custom stationery, and other boutique printing services.  PSP is made up of a small circle of expert consultants, designers, creators, and craftspeople with a passion for paper and ink.
Choose your paper quality, your color schemes, inks, fonts, and envelopes under one roof, with an experienced consultant by your side to advise and guide you through every step.
Hallak Cleaners
Known as, "the couture cleaner", Hallak Cleaners is an exclusive cleaning service.  Hallak offers over a dozen cleaning specialties, including (but not limited to): dry cleaning, bridal gown cleaning; restoration; bridal alterations; and gown storage.
Hallak Cleaners offers a unique safe cleaning guarantee at both its convenient locations (New York and New Jersey), and even has delivery for select areas.  There is a reason Hallak Cleaners was one of the winners of Wedding Wire's Couples' Choice Award for 2016; now find out why for yourself!
Magnolia Photo Booth Company
Magnolia Photo Booth Company is no ordinary photography troupe.  When you have a #MagBooth at your wedding, you have a means for making it even more memorable and fun.
Magnolia is made up of a team of creative, innovative, and pioneering individuals who…
"BELIEVE IN GOOD PHOTOS, GOOD PEOPLE, AND FIRM HANDSHAKES"
So pick up that mustache-on-a-stick, put on that pirate's hat, and #SayCheese !!!
Olli Studio
"WE LOVE TO CAPTURE CANDID MOMENTS" –Olli Studio
Olli Studio, based out of New York, is a fine art wedding photography and cinematography studio.  They believe that weddings are not just a social celebration, but also a celebration of a sacred commitment.  The team is composed of some of the most esteemed and talented photojournalists in the Tri-State Area, who are committed to integrity, and treating you (and your big day) with the highest level of respect.
Let the team at Olli Studio take that magical moment of your partner walking down the aisle and capture it forever- unobtrusively, honestly, and joyfully.
M2M
M2M OFFERS ENTERTAINMENT AT ITS BEST
From beginning to end, M2M promises that your event will be top priority.  They offer DJ services, emcees, performers, decorations, live musicians, lounge décor, video, and more.  With an easy-to-navigate website, and helpful team of professionals, M2M will help you create the atmosphere of your choice for the best crowd interaction and experience.
PMK Floral Arts
For over 15 years, PMK Floral Arts has been creating some of the most exquisite floral sculptures in New York City.  The PMK team handpicks their designers to reflect the PMK approach to flowers; seek to custom-make and collaborate about solutions for each client's individual needs.
PMK FLORAL ARTS IS ONE OF NEW YORK CITY'S BEST KEPT SECRETS
Peter and his PMK team are known for their inventive sense of color, keen awareness of the possibilities of shape, a flexible style, and a warm attentive approach to listening to his clientele.  Let the dedicated staff at PMK take care of your floral wedding needs.
One for the Book
"SINCERE PHOTOGRAPHY OF PEOPLE IN LOVE…
…AND WILDLY ENTERTAINING PHOTOSHOOT EXPERIENCES"
One for the Book Photography is owned and operated by Joseph Augstein.  He thinks of your wedding day, as more than a day, but a chance for him to "fight for your fleeting memories".  Most importantly, Joseph's job is not done until your love story is told.
Screaming Queens Entertainment
Add a colorful twist to your wedding reception by bringing in the most charmingly-costumed party performers in New York.  Screaming Queens Entertainment is a boutique entertainment company that offers a variety of larger-than-life characters such as: Las Vegas Showgirls, Strolling Tables, glamorous Drag Queens, and whimsical theme characters.
Screaming Queens Entertainment is so full of unconventional flare, they have even been featured on popular TV shows like: Project Runway, My Fair Wedding with David Tutera, and The Real Housewives of New Jersey.
Dreamlife Photos & Video
Dreamlife Photos & Video takes the brilliance of modern digital technology and effortlessly mixes it with the classical beauty of traditional film techniques.  The result?  The creation of an image capturing your once in a lifetime moment and making it everlasting.
The team at Dreamlife are trained to find an aesthetic and candid approach for every photo.  Ergo, it becomes more than a photo, but a unique human connection that sparks an emotion between you and your loved ones.
Dreamlife offers the utmost professionalism and is rated as one of the top ten wedding photography companies in New York.  Let their experience and creativity photograph the beginning of your fascinating journey.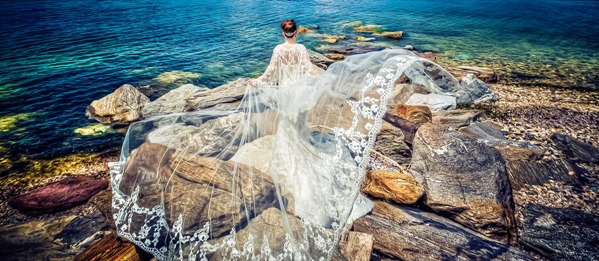 The Sound Explosion Event Group
The Sound Explosion Event Group specializes in event production and design, or as they call it: imageering.  For over 25 years, Sound Explosion has been family owned and operated.  Together, the team works with you to achieve your vision of the perfect event.  The customer is the first priority for the Sound Explosion team.
Sound Explosion offers several different services, including: sound reinforcement, lighting design, DJ entertainment, video production, lounge and décor arrangements, rentals, and installations.  If you want quality, professionalism, and to be treated like family, look no further than The Sound Explosion Event Group.